2 minute read.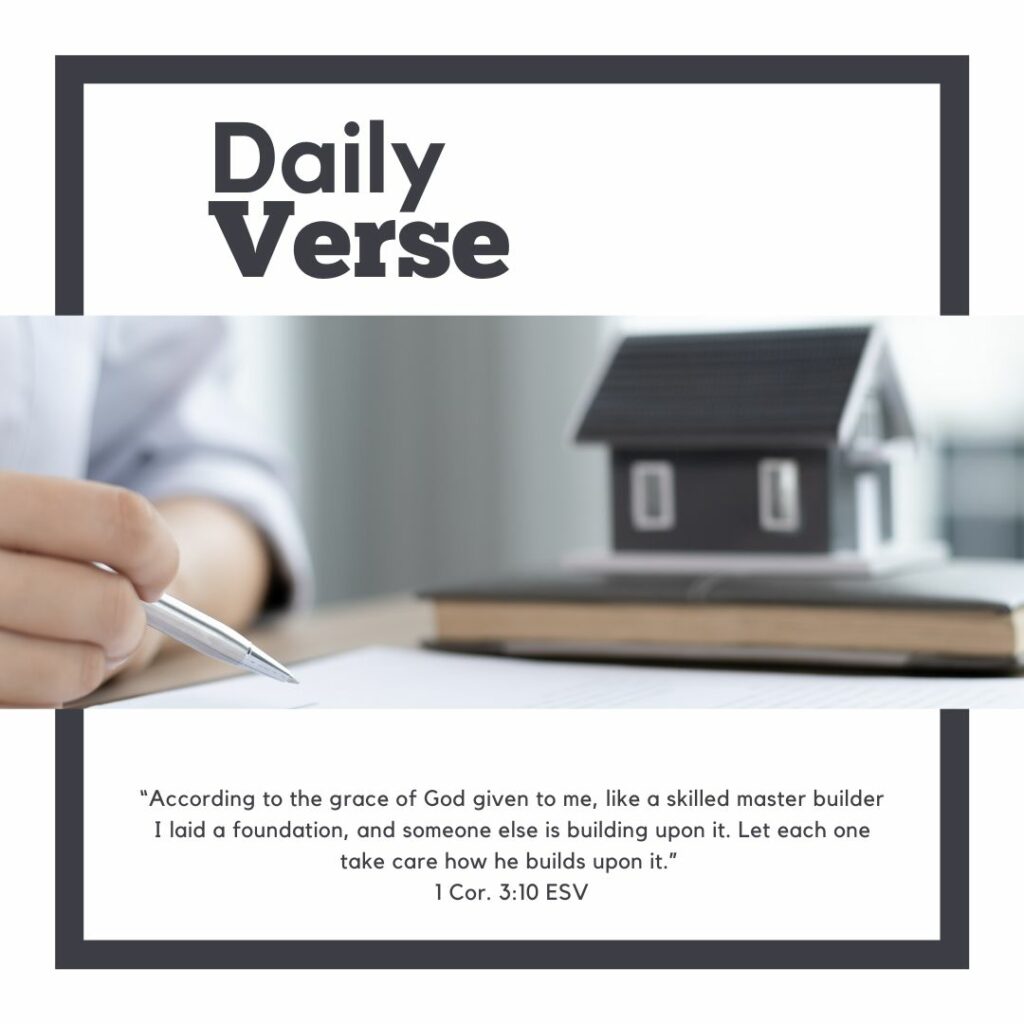 Daily Reading: Ezra 4:24-6:22 ESV, 1 Corinthians 3:5-23 ESV, Psalm 29:1-11 ESV, Proverbs 20:26-27 ESV
Daily Verse: "According to the grace of God given to me, like a skilled master builder I laid a foundation, and someone else is building upon it. Let each one take care how he builds upon it." (1 Cor. 3:10 ESV)
THEMELIOS (2310): "Something put down, i.e., a substruction (of a building, etc.).  Properly an adjective denoting "belonging to a foundation."  It is used of "the ministry of the gospel and the doctrines of the faith," 1 Cor. 3:10."[i]
Solid substruction.
Building a solid foundation for your faith will help others build theirs. Growing and maturing require encouragement. One of the beautiful things about faith in Jesus, you don't have to do the work alone.
Every house has a foundation of some sort, either brick or cement. The materials used to sustain the building have to hold tremendous weight. If you don't put something on the bottom that can hold the rest of the house, the first strong winds will cause the house to fall.
In the same way, if we don't begin our faith journey with the solid rock, when storm winds blow, we'll lose our way.
Firm base.
In high school, I participated in cheerleading. Because of my athletic build, the coach made me a base. Every time we performed a stunt, the lighter girls climbed on top of me to their positions. The entire pyramid would tumble if the squad didn't have firm bases. A slight move could cause someone to fall; bases must remain steady and strong.
Jesus never moves. The world changes, but God remains the same. No matter how harsh the winds blow, nothing shakes the Rock. Living life to the fullest means trusting your foundation of faith. The slightest gust will blow you off course if you don't have Jesus as your base.
And just like we needed a squad of cheerleaders to build a pyramid, God uses other believers to help build our faith. Believers journey together, encouraging each other and building each other up in their faith. God's kingdom grows when we work together, trusting Jesus as our foundation and helping others do the same.
---
[i] Strong, J., & Strong, J. (2010). The New Strong's expanded exhaustive concordance of the Bible. Greek Dictionary of the New Testament (p. 114) Thomas Nelson