2 minute read.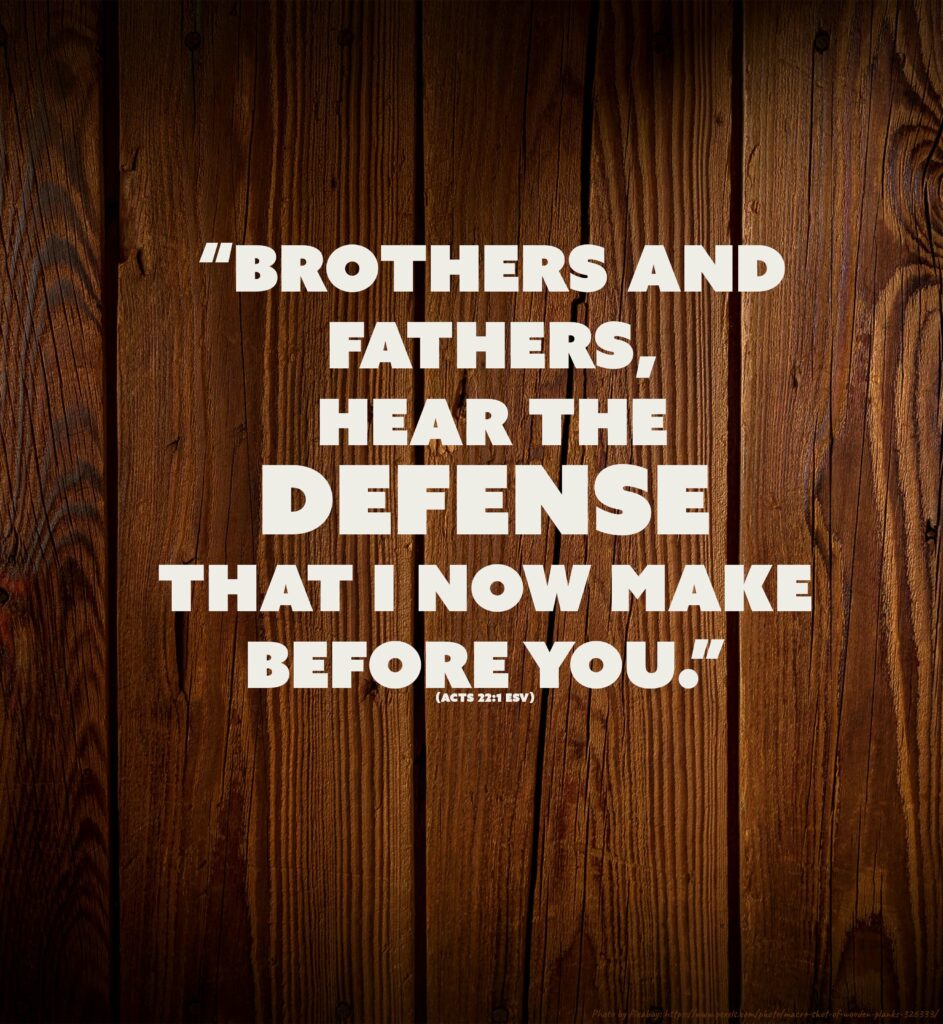 Daily Reading: 2 Kings 22:3-23:30 ESV, Acts 21:37-22:16 ESV, Psalm 1:1-6 ESV, Proverbs 18:11-12 ESV
Daily Verse: "Brothers and fathers, hear the defense that I now make before you." (Acts 22:1 ESV)
APOLGIA (627): "This does not mean saying, "I'm sorry, I apologize." The root means to give a cogent explanation for one's beliefs.  The word means" to talk one's self off from" i.e. to explain one's basis for operation, explain the basis upon which and from which one makes his decisions.  Making a defense is not to escape punishment nor trial but to explain forcefully and completely why one does what he does."[I]
Cogent Explanation.
Paul, speaking to the crowd, shares his faith journey with them. He doesn't talk about Peter's or John's story; Paul tells his. By doing so, Paul explains to the crowd his actions and why his life changed dramatically. One day Paul killed Christ-followers, the next day, he became one.
Défense means telling others why you do what you do. For instance, when someone asks me why I follow Jesus, I tell them about my faith journey. I talk about growing up in the church, turning my back on God, experiencing hell on earth, and then finding my way back to Him as an adult.
Tell your story.
More than likely, your relationship with Jesus differs from mine. We may share similarities, like growing up in church, but we each uniquely connect to God. Some people feel most connected to God through music, others through nature, or perhaps writing.
Sharing with others about Jesus answers three questions:
How did you meet Jesus?
How do you connect with Jesus?
How does following Jesus change your life?
Think about your story. Explain to others why you do what you do. Give Jesus the glory as you follow Him into a more intimate relationship by doing what He calls us to do: love God, and love others.
---
[i] Strong, J., & Strong, J. (2010). The New Strong's expanded exhaustive concordance of the Bible. Greek Dictionary of the New Testament (p.37) Thomas Nelson