2 minute read.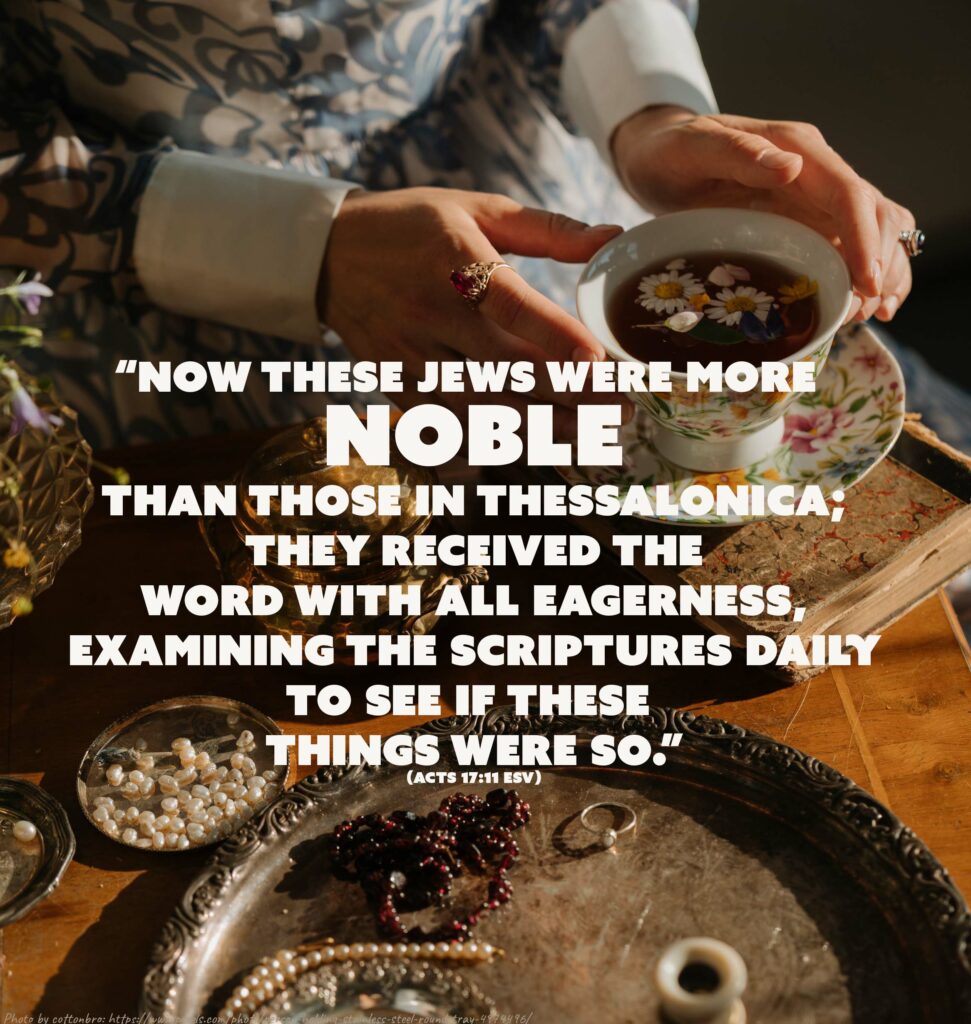 Daily Reading: 2 Kings 9:14-10:31 ESV, Acts 17:1-34 ESV, Psalm 144:1-15 ESV, Proverbs 17:27-28 ESV
Daily Verse: "Now these Jews were more noble than those in Thessalonica; they received the word with all eagerness, examining the Scriptures daily to see if these things were so." (Acts 17:11 ESV)
EUGENES (2104): "An adjective, lit., "well born," "well," and genos, "a family race," signifies "more noble." [i]
Family race.
The type of nobility in this Verse refers to those born into wealth. In other words, silver spoons adorn their tables instead of nothing—many people ate with their fingers. You can see how bread became an eating utensil during Jesus' time on earth.
Raised in a middle-class family, I've never gone without food or shelter. But many in this country have. Listening to an interview of the worship leader at Life Community Church, I had no idea he knew poverty as a child. Now a doctor, his life began as a Buddhist and led him to Jesus; he praised God for working in his life in a way that "worked for me."
All seek.
Whether rich or poor, people have a God-sized void in their lives; we all share it in common. God created us for a relationship with Him and others. Submitting our lives to Jesus will make us better lovers of people. Our relationships will grow stronger as we mimic Jesus in our lives.
One of my favorite parts of Thor's interview, the worship leader at LCC, happened in the middle when he talked about his dependence on God. Now a doctor, no longer living in poverty, he doesn't depend on God like he did when poor. But from his days of fasting, Thor learned to appreciate his time of feasting.
God works differently in people's lives; we need to give Jesus space to act. Just because we think God should do this or that doesn't mean He will or should. Nowhere in the scriptures will you find a commandment to run other people's lives. But you will find one that says love them.
Enjoy people instead of trying to change them. Encourage others on their journey, accepting we all travel different paths. Allowing others to live their lives will bring you the greatest reward. With God's help, you can appreciate others, accepting them the way the Creator made them.
---
[i] Strong, J., & Strong, J. (2010). The New Strong's expanded exhaustive concordance of the Bible. Greek Dictionary of the New Testament (p. 104) Thomas Nelson