2 minute read.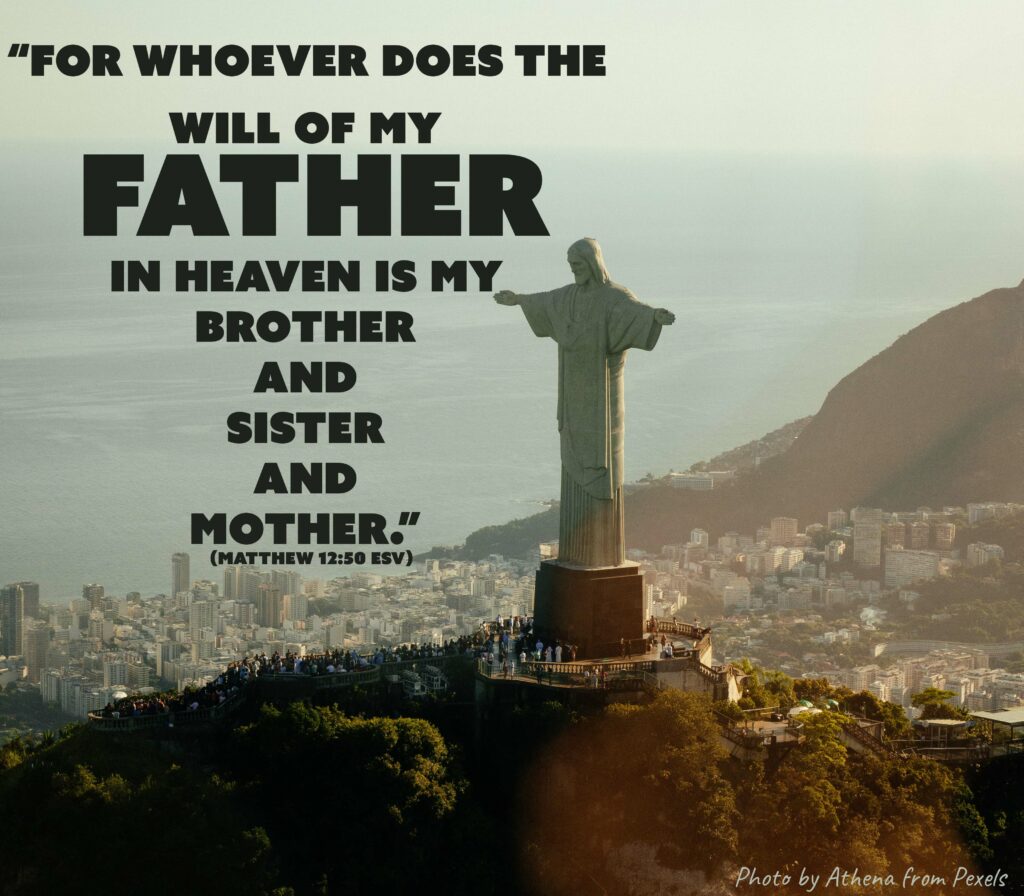 Daily Reading: Genesis 39:1-41:16 ESV, Matthew 12:46-13:23 ESV, Psalm 17:1-15 ESV, Proverbs 3:33-35 ESV
Daily Verse: "For whoever does the will of my Father in heaven is my brother and sister and mother." (Matthew 12:50 ESV)
PATER (3962): "From a root signifying, "a nourisher, protector, upholder.' Of God in relation to those who have been born anew so are believers and imitators of their 'Father.'[I]
Nourish, protect, uphold.
Father comes from the root word pater and describes a person who cares for others. For many children, including me, my earthly father was my hero. Dad always seemed in control; he provided a safe and secure home for us, one in which I felt entirely at ease. I wasn't scared when I was with my dad; I did not doubt his ability to protect me. Whatever problem arose, dad had an answer. Sitting in my father's lap was the most secure place in the world.
When dad told me to do something, I did it. Respecting who he was in my life and trusting that he wouldn't steer me wrong caused me to obey his instruction. I knew Dad wouldn't tell me to do something that hurt me. When I didn't obey, inevitably, I would regret not listening to dads' words.
God trumps dad.
As much as my dad loved and cared for me, his affection doesn't compare to God's. My earthly father nurtured me out of his imperfection; God loves us perfectly.
"If you then, who are evil, know how to give good gifts to your children, how much more will your Father who is in heaven give good things to those who ask him!" (Matthew 7:11 ESV)
Grasping God's love for us becomes complicated when we encounter the pressures of life. Instead of doing what God says, we follow our path because we don't believe God really has our back at our core. Doubt in God's involvement in our lives causes us not to obey. Believing in the unseen challenges us, but faith believes without seeing.
Put faith into action by becoming obedient to God's word. Like a child, trust God won't steer you wrong. Whatever God commands will help you, not hurt you. Taking steps of faith by applying God's word to your life will lead you into a deeper relationship with your Creator.
Let God nourish, protect, and uphold you today. Obey His commands, discover God's will for your life. Enjoy life in the family of God as you follow Jesus.
---
[i] Strong, J., & Strong, J. (2010). The New Strong's expanded exhaustive concordance of the Bible. (p. 195) Thomas Nelson