2 minute read.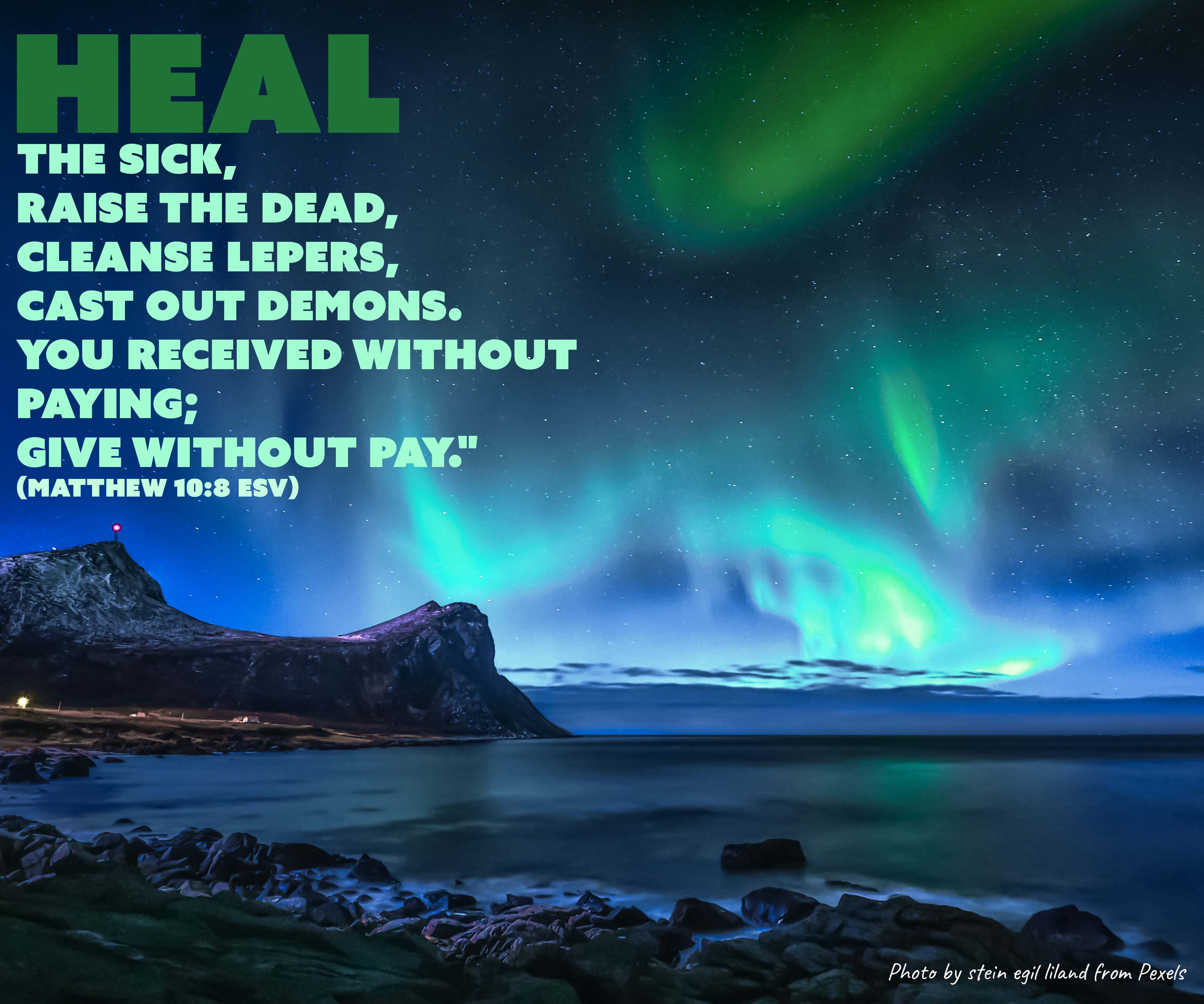 Daily Reading: Genesis 30:1-31:16 ESV, Matthew 10:1-23 ESV, Psalm 12:1-8 ESV, Proverbs 3:13-15 ESV
Daily Verse: "Heal the sick, raise the dead, cleanse lepers, cast out demons. You received without paying; give without pay." (Matthew 10:8 ESV)
THERAPEUO (2323): "To wait upon menially, i.e. (fig.) to adore (God), or (spec.) to relieve (of disease):-cure (5x), heal (38x), worship (1x). To care for the sick, to treat, cure, heal."[i]
Become a healer.
No medical bill comes with Jesus' healing. When He hung on the Cross, Jesus paid it in full. Matthew records the mission statement for the disciples. Jesus sends them out into the world to share the good news through action and deed. God gave them the power to accomplish their task freely; they shared it with others the same way.
Part of healing means to "wait upon menially." Serving others heals them. Sharing our stories with family and friends helps them learn and grow. As followers of Christ, part of our task when loving others, helping them to heal. Healing happens when we open our lives up to each other.
Share the struggle.
Loving hurting people means walking with them on the journey. Helping them when we can, listening to their heartache, sometimes, just sitting silently with them, letting them know they aren't alone. Look for ways to connect with those in pain. Meet them in the pit. Ask God for ways you can minister to them.
When my sister was dying from cancer, she had a small appetite. Canned peaches were the only thing she found tasty. Her husband bought a case of them; it was one thing he could do for her. Finding ways to connect with people means tuning into their actions and word. Pay attention to them; do it when you discover a way to serve them. Acts of love heal in ways nothing else can.
Become a healer today. Tap into the power of Jesus. Follow God's leading to minister to those around you. When the Holy Spirit prompts you into action, do it.
---
[i] Strong, J., & Strong, J. (2010). The New Strong's expanded exhaustive concordance of the Bible. (p. 115) Thomas Nelson