2 minute read.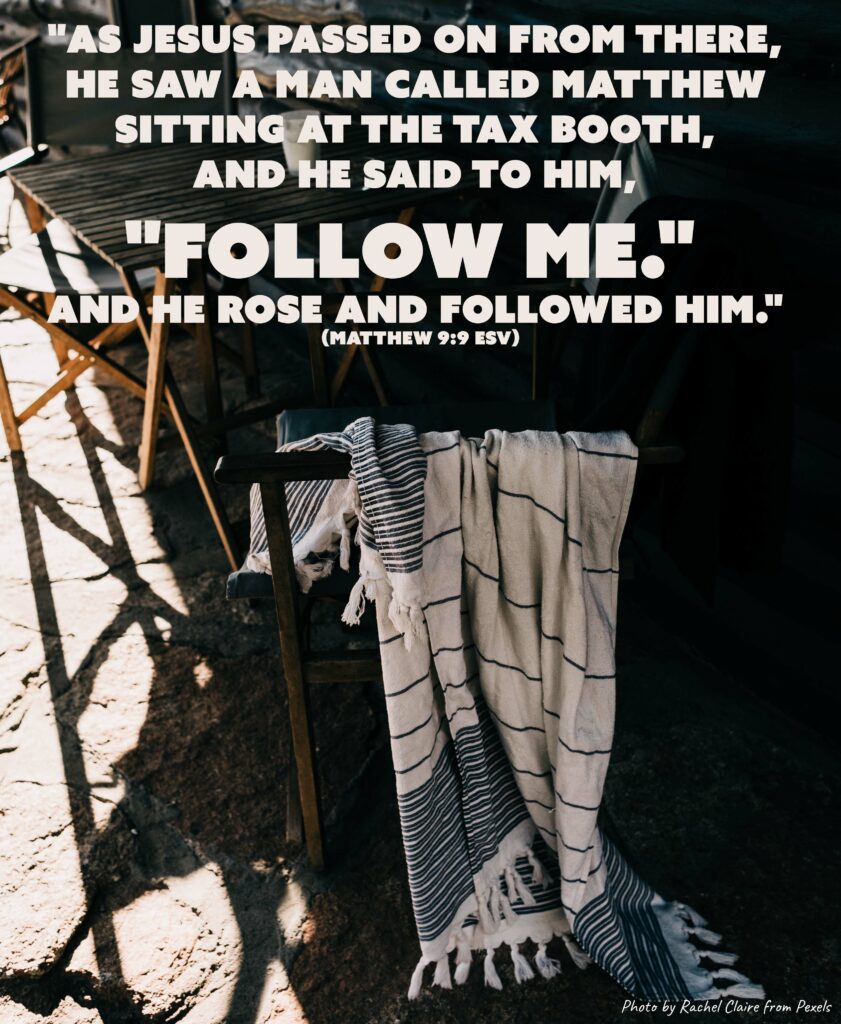 Daily Reading: Genesis 26:17-27:46 ESV, Matthew 9:1-17 ESV, Psalm 10:16-18 ESV, Proverbs 3:9-10 ESV
Daily Verse: "As Jesus passed on from there, he saw a man called Matthew sitting at the tax booth, and he said to him, "Follow me." And he rose and followed him." (Matthew 9:9 ESV)
AKOLOUTHEO (190): "To be in the same way with, i.e., to accompany. Frequently in the literal sense (Mt. 4:25), metaphorically, of "discipleship" (Mk. 8:34, 9:38, 10:21). It is used 77 times in the Gospels, of "following" Christ and only once otherwise (Mk 14:13). [i]
Rise and follow.
Walking with Jesus means accompanying Him in the direction He's going. The Gospels authors use the word seventy-seven times, telling us to "follow Jesus." Since Jesus walked everywhere, we can't use the excuse He's going too fast. The problem we all have, we don't want to travel in the same direction as our Savior.
Jesus leads with grace. First and foremost, God loves and forgives, no matter the sin. I don't always want to lead with grace; I'm sure you don't either. Forgiving doesn't seem possible when we suffer because of someone else's actions. The only way we can forgive, follow Jesus.
Walk this way.
Accompanying God's Son means doing what He did. When faced with betrayal, Jesus forgave. Hanging on the Cross, barely breathing, His words tell the story:
"Father, forgive them, they know not what they do." (Luke 23:34 ESV)
When I quit my job as District Manager, it wasn't in my plans. Facing company changes that compromised my principles, I had a choice to make. With respect, I gave my two weeks' notice. Walking down the headquarters' sidewalk, overcome with hurt, I remembered Jesus's words, "Forgive them; they know not what they do." Peace began to settle over me as I walked Jesus' way.
Follow Jesus daily by connecting with Him through the Gospels. Get to know God in the flesh as you read about His travels. Journeying with Jesus will take you to unexpected places. Experiencing God's presence in your life as you actively pursue Him will change you. The closer you follow, the more you will experience.
Get close to Jesus today. Follow Him wherever He wants to take you. One step at a time, live life to the fullest following Jesus.

---
[i] Strong, J., & Strong, J. (2010). The New Strong's expanded exhaustive concordance of the Bible. (p. 12) Thomas Nelson