2 minute read.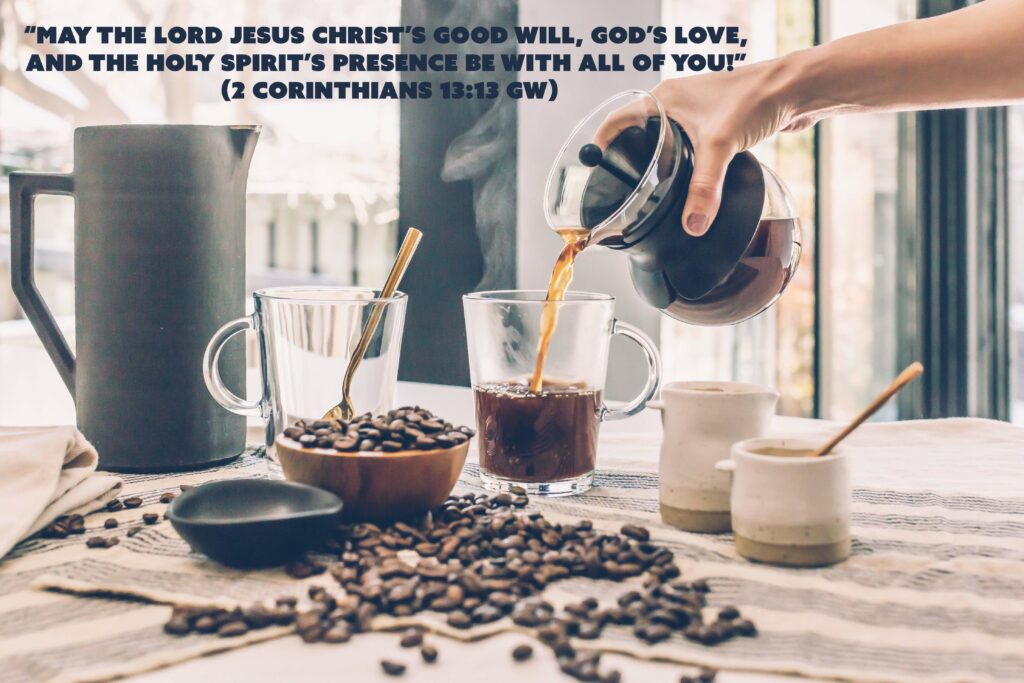 Daily Reading: Leviticus 14-15 GW; 2 Corinthians 13 GW
Jesus, God, and the Holy Spirit are one with you.
Why do we need all three? God's love is something we can't fathom in our human condition. God understands our limitations, which is why He sent His Son. Jesus is human and divine, God in the flesh. We can relate to Jesus because He has human qualities. He experienced the same human emotions we do, yet He didn't sin. Jesus helps us understand the depths of God's love for us. When He ascended into heaven, Jesus left us a helper, His Spirit. When we place our faith in Jesus, His Spirit takes up residence in our hearts. Together, we are one with God.
Take a coffee bean, for example. When you look at the brown pod, you can't understand all of the glorious goodness inside of it. However, when you add hot water, you begin to experience the aroma and taste the beans hold. The first sip of the aromatic brew immediately begins to awaken your senses and energize your body as it becomes one with your being—three things, made into one with you.
Appreciate the brew.
God's love is like the coffee bean. We can't truly appreciate His affection without the help of Jesus. Just like the hot water brings the coffee alive to our senses, Jesus does the same with God's love. We begin to experience God as we live like Jesus. When we place our belief in Christ, like drinking coffee, His Spirit lives within us. Our soul blends with God's Spirit, and we are energized and awakened to new life.
Drink deeply of God's love today. Experience His presence as you imitate Jesus. Let the Holy Spirit prompt you as you enjoy this day.

Lord, how grateful we are for You. Help us understand how three are one with us today. Let us experience Your love as we place our faith in Jesus. Prompt us with the Holy Spirit to live like Christ. Jesus loved all, help us do the same. Today Lord, may we all choose You to follow. IJNIP. Amen
Question for reflection
How does Jesus help you understand God's love for you?